>

British Essay Writing Contest
British Essay Writing Contest
Here at UK Writings we think we're the best at writing top class essays, but have you ever thought about beating us at our own game? UK Writings is proud to announce hosting the best British Essay Writing Contest. Show us you're the best writer around and you can win money for your top essay!
We want you to show us just how good you are. If you've always felt you're an excellent essay writer, now's the time to prove it. We have three excellent cash prizes on offer. As the school year starts up again, who can say no to some extra cash?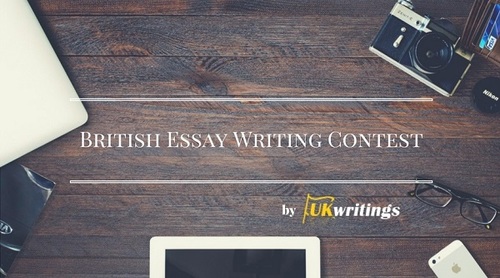 How to enter:
To be eligible for winning, you will need to like the UK Writings Facebook page or follow our Twitter page. Share a post from either site and send us a screenshot of you doing so. Once you've done that, you can then enter the contest by sending your essay via contact [at] ukwritings.com. The best part is that getting involved is absolutely free.
Prizes
There are three fantastic cash prizes up for grabs:
First place: £3500
Second place: £2500
Third place: £2000
Deadline
To enter, you'll have to be quick on your feet with writing that essay. You have to get your entries in to us from September 5th 2016 to May 31st 2017.
Judges
All entries will be judged by the team of PhD writers and editors here at UK Writers essay writing service. They know just what makes a great essay, so you'll need to impress them if you want to be in with a chance of winning the main prize.
Topics
What are you going to write your essay on? You'll need to pick a title from the ones provided for you below:
- What's the most important thing a student will learn at university?
- Are university degrees becoming too common in UK?
- Do employers still want to see university degrees on applicants' CVs?
- How does developing your academic writing skills help you in later life?
- Are non vocational degrees still worth pursuing?
- Does technology help or hinder learning?
- What advice can modern students give to upcoming university applicants?
- What non academic skills will a student learn at university?
Get thinking and reading, and start writing us an essay that will get our judges interested in what you have to say. The more original your argument, the better. Try and tell the reader something they've never heard before, or put together an argument that examines the topic in a new and meaningful way.
Entry guidelines
Please read these carefully and keep them in mind as you enter our competition.
1. Plagiarism will not be tolerated in any way. We want new, original essays from you. All essays will be checked for plagiarism, and any we feel are not 100% original will be disqualified.
2. All essays must be 700 - 900 words long.
3. Your essay must be written in English.
4. We can accept essays that use images, as long as the writer has the rights to distribute them.
5. Your contact details will need to be included on a separate page.
6. We can accept the .doc, .rtf, .docx, and .odt file types for your essays.
7. By submitting your essay you are agreeing to the terms and conditions of entry. You will also agree to respect the final decision of the judges.
Now you have all the information you need to get writing. Remember to write something interesting and informative that our judges will be able to pick out as one of the best. Remember your grammar and spelling, and good luck!